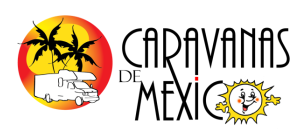 Terms: Updated Sept 7th for 2019/2020 season. For 2018/2019 terms click HERE
Note: Please ensure you read the FAQ section to understand what the travel conditions of this trip will be.
Special note on Airstream trips: Starting with the 2020 season, terms will likely be set by the Airstream club, for 2019 they are set out below
Special note on Yucatan trips For Yucatan trips we now require an initial $1000 US or $1200 Can deposit, plus a $1500 US or $2000 Can deposit approx one year before departure. Both non-refundable. This is due to the fact we have to reserve and pay for many of the RV parks on this route about a year in advance. Unlike other trips, deposits cannot automatically be shifted to the next season, unless done more than 1 year in advance, or we have more than 9 rigs, or a wait list, or we decide to allow it on a case by case basis.

We allow 1 day grace, or a couple more at our discretion, in every instance.
It is up to the client to purchase Trip Cancellation Insurance if they wish. See bottom of page.
If you have to leave the trip en-route for reasons beyond your control, we MAY refund any non pre-paid fees for items such as RV parks, hotels, etc. & some service fees at our discretion. However, this is what trip cancellation & interruption insurance is supposed to protect you against. You will not receive a refund for any deposits we have paid on your behalf. We may sell you our own trip cancellation & interruption insurance, you need to ask us about this if you are interested, but you may do better elsewhere..
Please note that in some cases we may be forced to alter the announced RV Park, due to circumstances beyond our control. This is rare and we will substitute the best alternative we can locate.

If for any reason you decide to leave the caravan to travel and stay on your own and do not re-join the caravan again, NO FEES ARE REFUNDABLE. There are instances where this may be done with the permission of the Wagon Master. In those instances you may rejoin the group later. If you leave against the instructions of the Wagon Master, you are on your own, with no monies refundable. In that case it will be up to the Wagon Master as to whether you may rejoin or not. Refusal to follow Wagon Master instructions is grounds for expulsion without compensation. Caravanas de Mexico is not responsible for the safety of a customer if they have left the caravan.
Cancellation of the trip by Caravanas de Mexico before departure, will result in a full refund.
We have been very generous in the past in refund policies. We allowed the initial deposit to be transferred to another trip the same season without penalty. That will NOT change. We did, however,  allow 100% of  subsequent amounts to pushed forward as well until recently. That has changed. From now on you may transfer 100%  up to 6 months before departure. After that, you will incur a  penalty amounting to 15% of the trip value to switch to an alternate trip or the next season. You may transfer any monies you have paid to another participant if you can find one. you have to make yoru own arrangements with them, then let us know.
We have set the first payment dates and deposits for most trips for next season. They vary depending on trip, whether it is full or almost full, etc. Some trips are still in limbo as to whether they will run, so dates have not been fixed for those.
For all trips except Yucatan, there is a first payment due on July 1st for all Spring Caravans of $1000 US or $1200 Canadian unless indicated otherwise below. We will invoice you. This is refundable up until 120 days before departure, less a $100 admin fee. Final payments are due 120 days before departure and money paid (less the intial deposit) are refundable in the decreasing amounts outlined below.
Failure to pay before the due dates may result in losing your spot to someone on the wait list, if one is in place.
Cancellation by the client for any reason, will receive a refund of monies according to these criteria:
Initial deposit is not refundable, but may be transferable to another participant (your responsibility to find someone) or season (except in the case of Yucatan trips)
We recommend travel insurance. Here is one company: Travel Insured International – 800-243-3174

Amounts calculated in the currency you are paying with (US or Can)

Refunds are based on money paid up to the date of withdrawal, less the first deposit. Initial deposits are non refundable and not included in amount.

Over 120 days before departure 100% refund, less any non refundable payments made
Between 90 - 120 days before departure 60% refund, less any non refundable payments made
Between 30 - 90 days before departure 25% refund, less any non refundable payments made
Less than 30 days before departure 10% refund, less any non refundable payments made
We allow, and in fact, encourage payment of up to 50% of the final payment at the border in cash. US funds only. This helps us with Wagon Master operating funds at the start of the trip. This means less penalty for you if you drop out during the last 120 days as well. We will let you know how much we will allow for each trip before requesting final payment at the 120 day before mark. We discount 3% on this amount for Americans and 4.5% for Canadians who will take an exchange hit on converting to US dollars.
Note refunds are based on what you have paid by the date of your cancelation, less any non refundable payments made
Participants will be required to sign a standard waiver of liability before departure, which will also outline our responsibilities to you. You may download a copy of this HERE.
Participants will be required to fill out a medical form and give it to the wagon master in a sealed envelope with their name. This will only be opened in an emergency and will be returned to you after the caravan. All finances for trips must be handled direct with Caravanas de Mexico.
Trip Cancellation Insurance:
You have to be careful as many companies will require you to purchase coverage within 48 hours or 7 days, or some other limitation period of paying the deposit. A check of a couple of web sites (based on age 70 of both participants and $6000 coverage) indicates an average cost around $400 per couple. Drop the ages down to less than 65 and it is cheaper. I have some examples linked below .
Trip cancellation is often cheaper when purchased in conjunction with Travel Medical Insurance (try www.travelguard.com).
Trip cancellation insurance web sites to check out
USA: http://www.securiglobe.com/en/Trip-Cancellation-and-Interruption-Insurance/
Canada: http://www.travelinsurancequotes.ca or http://www.travelguard.ca/home_2011_327028.html? (this one seems cheaper)
Waiver of liability
Text supplied to prospective clients upon request