April 2024 Solar Eclipse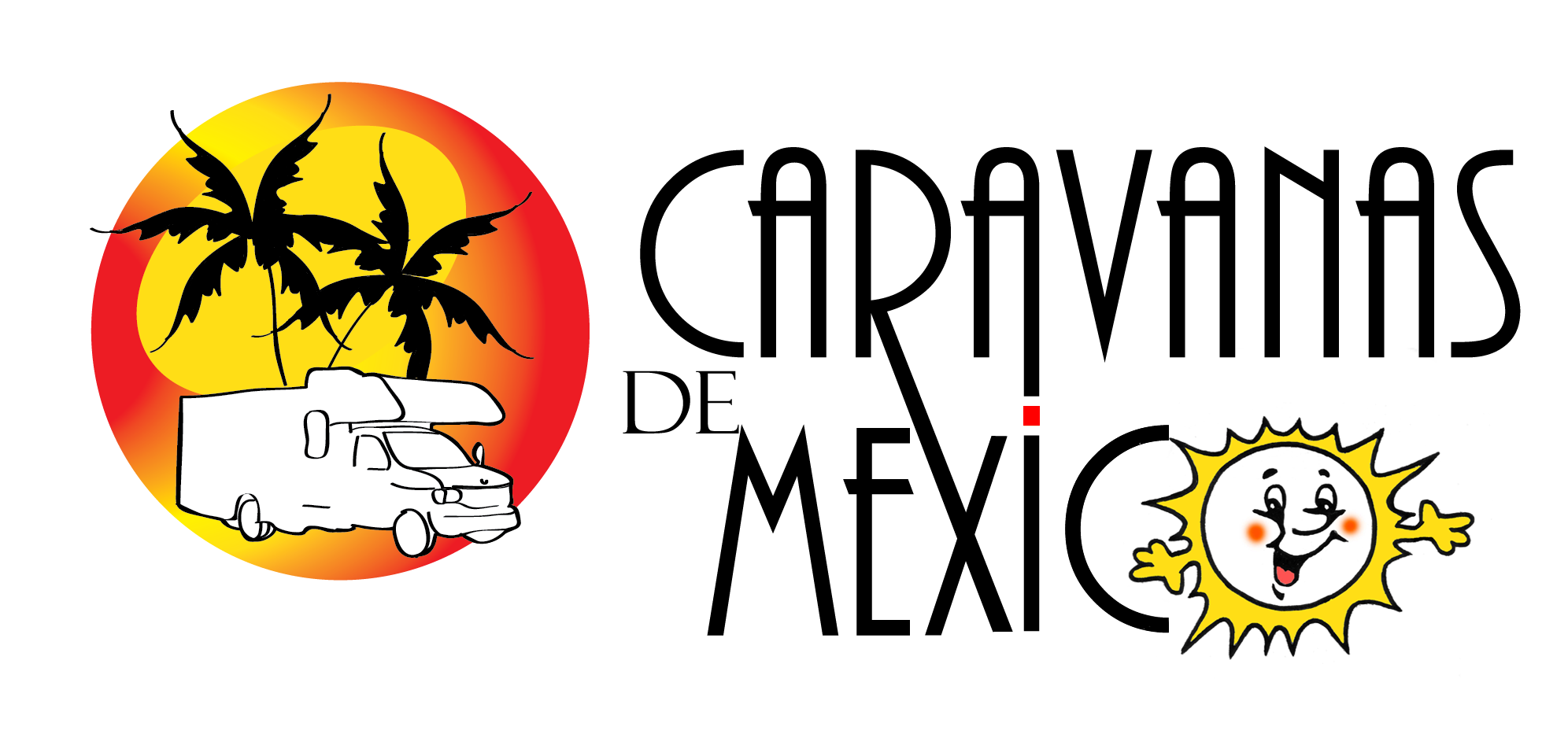 THE GREAT SOLAR ECLIPSE OF APRIL 2024.

Caravanas de Mexico is centering most of our 2024 offerings to experience what is probably the greatest Solar Eclipse occuring in your lifetime, or at least before I enter a nursing home. The next one is over 20 years away. Over 4 minutes of totality. We will be using 2 locations, Mazatlan and Durango. PROTECTIVE GLASSES WILL BE PROVIDED.

Please note that we are having to pay RV Parks over a year in advance. Deposits on this trip are not refundable. Are you already planning to be in Mexico? Then we have an option for you. If you are in the Puerto Vallarta area, you may join our Yucatan group northbound, or if you are further south, or in the Guadalajara area, you may join our Copper Canyon extension group. The caveat is that you MUST sign up for our Copper Canyon package in April, northbound. The price may be a bit less depending on where you join the group. Contact Paul at [email protected] to discuss these options.



PLEASE NOTE, some of this is still fluid and some small changes, additions or alterations may still take place as we work out schedules.




PLEASE NOTE THAT QUITE A BIT OF DRY CAMPING MAY BE INVOLVED !!!!

There are 3 Stand Alone trips of 17,19 and 24 days in April, plus a Yucatan, Colonial City, Copper Canyon & Baja trip, either including the eclipse or having option to do so.


1) A 17 and a 19 day caravan with beach time and 4 tours / 4 meals
2) A 24 day caravan with 10 tours, including a trip by train to Copper Canyon / 16 meals
3) A 90 - 95 day Yucatan - all Mexico caravan (almost full) This trip includes a 3 day exit via Nogales from Mazatlan or with a Copper Canyon option based on availability
4) An optional side trip on the stand alone, Yucatan, Baja and stand alone caravans is to Durango and back for the eclipse (High altitude, low light pollution).
5) A 31 day Copper Canyon trip in January with an optional long term beach stay in Melaque, Jalisco that will include the Eclipse in Durango.
6) A Copper Canyon/Colonial trip in January that will also include the eclipse in Durango (approx 85 day)

Shorter term Caravans will leave Nogales Az (March 31 or April 1st) and return to Nogales. No Texas exit option on these.

There are participation limits for all tours, and only those who pay a deposit are booked, on a "first come first serve" basis. Those who have already paid deposits are first in line.

Stand alone trips are filling fast

All caravans will involve some dry camping. Serious Astronomy buffs may prefer Durango. It is located inland at 7000 ft and has very low light pollution. The eclipse coincides with a new moon, so Astronomy should be excellent. It will cost a bit more. We have to cover the Wagon Master, Green Angel escort, Tour Guide, and security at the dry camp location. It is a rather expensive toll road to get there. It is, however, a stunning drive. Durango spots are first come - first serve, with a proposed maximum of 30 rigs. This may be raised depending on another vacant lot being available. The chances of clear skies are the same for either location, just about 80%. It is a new moon, so Durango with its lower light pollution and high altitude is for better night astronomy and, of course, you get to transit the spectacular Devils Backbone Toll Road. Extra cost is $300 USD based on 3 nights up there

The Mazatlan groups will relocate to a baseball field at Concordia. This town is about 30 minutes inland where sea mist and fog should not cause an issue

The odds of clear skies on April 8th are the same for Mazatlan & Durango, just about 80%. The map below indicates clear sky probability, blue being best, red worst. However the eclipse is around noon and clouds usually are a morning phenomena at this time of year.

Tips and Warnings

A few notes about the eclipse. You may want to download the "Solar Eclipse Timer" by George Telepun. This will provide info during the eclipse and let you know when it is safe to remove your protective lenses and put them back on. The version for the 2024 eclipse is now available and costs $1.99. It will be safe to view the sun during totality. Failure to replace your glasses after the disk starts to re-appear can result in eye damage or blindness. You can also view through binoculars or a telescope, but be very careful not to do this until totality starts and after it stops. This app will give you warnings. Viewing the eclipse through binoculars before or after totality, will result in blindness. We plan to have a physicist and eclipse expert along to instruct everyone about all of this. If this is your first eclipse we do not advise photographing it, you do not want to distract from the experience. Professional eclipse chasers will take far better pictures than you can, Soak in the experience. Since the sun will be fairly high in the sky, a set of binoculars will be useful to witness coronal ejections. The sun should be in the peak of its 11 year activity cycle in early 2024. If that holds true, you should witness flares.
The Solar Eclipse Timer will work anywhere. The app does its calculations internally. It does not require cell service or an internet connection to work. It only requires a GPS signal or manually entering GPS coordinates for the calculations to occur. However, Mexico has very good cell coverage and it will be fine in Concordia and should be Ok in Guadalupe Aguilera as well, without having to manually enter co-ordinates. We are going to the 2 locations on the day previous to the eclipse and you may want to note the position of sun on that day around 11 AM in Concordia and around 12 Noon in Guadalupe so it is not blocked by trees or buildings on eclipse day. This is more likely to be an issue in Concordia. We will ensure we move people there early AM on April 7th so we can check it out. We may send someone there on the April 6th to be certain. Just as a reminder, the sun rises in the east.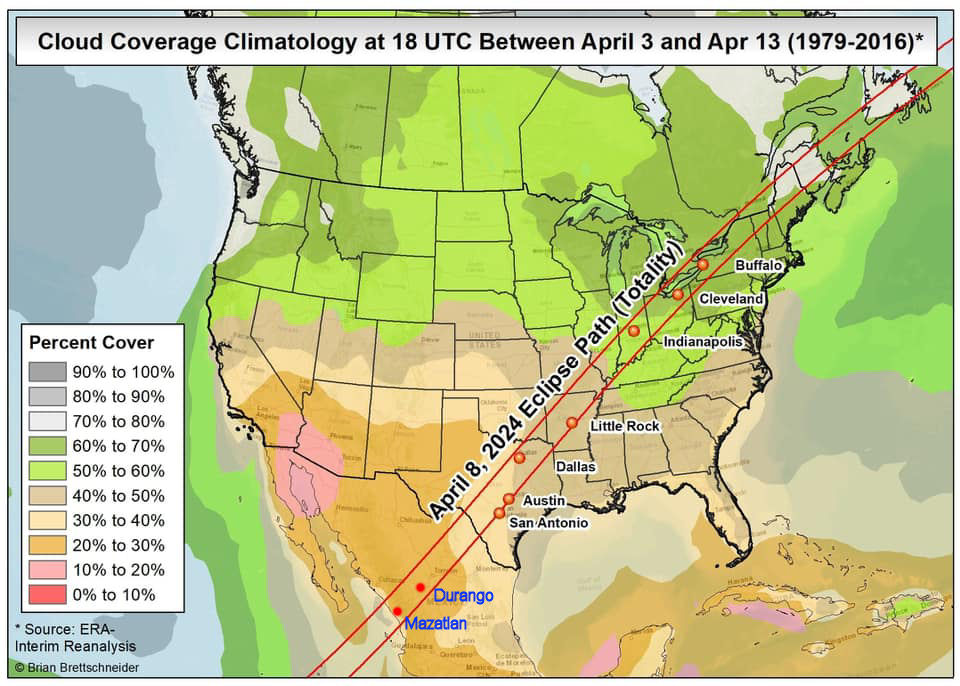 As you can see in the map below, apart from Torreon, Mazatlan and Durango have the best odds of clear skies anywhere along the eclipse path.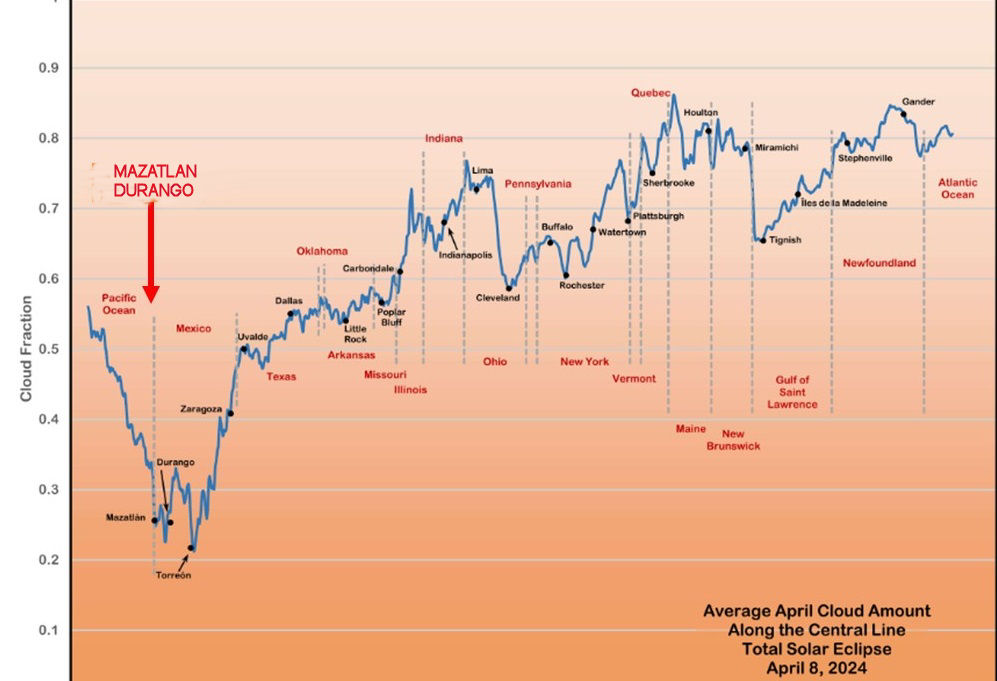 Deposits

Initial Deposits to secure your spot are $1000 USD or $1350 CAN for all trips. We price in USD, but accept Canadian dollars at the book rate. The $1350 CAN is credited as $1000 USD.

Already made a deposit?

You should be on the list, we will double check your preferences upon request.

Prices

Prices for Stand alone trips have been set below. Other trips may vary slightly if days are added or subtracted, as we firm up schedules. Once you pay a deposit, your price will not go up.

Yucatan & Baja Groups

Yucatan caravan participants may return with their own group (exit Mexico on April 12th) or add on the northbound Copper Canyon program at a reduced price. The same is true for Baja groups. Baja groups must pay their own ferry fare across from La Paz or return north to California. They have time to go south again from Nogales if they wish to do so, and space is available.

Permits and Insurance

See our page at Insurance for information. Once you have paid a deposit you have access to our comprehensive customer manual.


Please note, there are no previous customer discounts for stand alone trips. There are for the others. Our 3.5% surcharge for credit card payments is in effect for those who signed up after March 1st

Stand alone trip information

Please note that included tours may vary by which day, depending on numbers, Durango option, etc
Caravans may by ,17,18, 19 or 20 days long depending on day crossing

17 Day or 19 Day Caravan - Max 24 rigs (12 each) . 19 Day one is +$150. One or the other may not be available. Put preference in comments box in sign up form and we will let you know.
4 tours 4 meals
$3199 USD, $200 single discount, $150 extra for 19 day.

- Mar 31st - Rendezvous Desert Diamond Casino I-19 south of Tucson
- April 1st - Cross Border & drive to Santa Ana
- April 2nd - Drive to San Carlos - Welcome dinner
- April 3rd - Drive to Los Mochis
- April 4th - Drive to Mazatlan
- April 5th - Mazatlan - Tour
- April 6th - Mazatlan or drive to Durango
- April 7th - Move to dry camping eclipse area in Concordia or Durango
-April 8th - Eclipse day
- April 9th - Mazatlan
- April 10th - Mazatlan - Tour
- April 11th - Drive to Las Glorias (Celestino for 18 day)
- April 12th - Las Glorias (Celestino for 18 day)
- April 13th - Drive to Huatabampito (beach) ( Las glorias for 18 day)
- April 14th - Huatabampito (Las glorias for 18 day)
- April 15th - Drive to San Carlos - Farewell dinner (Huatabampito for 18 day)
- April 16th - Tour in San Carlos (Huatabampito for 18 day)
- April 17th - Drive to USA (San Carlos for 18 day)
- April 18th - San Carlos for 18 day
- April 19th - Border for 18 Day

NOTE: 19 day itinerary is the same as the 17, except 2 nights at Celestino, April 11th & 12th, then the same schedule out as the 17 day. Note, some on this trip will have the option to travel down 1 day earlier to balance out the numbers on a volunteer basis. Surcharge will be no more than $50.


24 Day caravan (Copper Canyon) - Max 12 rigs. SPACE AVAILABLE
10 tours, 16 meals, 3 nights hotel at Copper Canyon
$5749 USD $250 single discount.

Note El Fuerte is where the Copper Canyon tours are done from. Schedule depends on train schedules, there are 3 nights up there. April 6th to 9th options will depend if you picked Durango.

- March 30th - Rendezvous Desert Diamond Casino I-19 south of Tucson
- March 31st- Cross border, drive to Santa Ana
-April 1st - Drive to San Carlos Welcome dinner
- April 2nd - Drive to Los Mochis
- Apitrl 3rd - Drive to Mazatlan
- April 4th - Drive to Country Tour
- April 5th - Mazatlan- Pulmonia Tour
- April 6th - Mazatlan or drive to Durango
- April 7th - Move to dry camping eclipse area in Concordia
- April 8th - Eclipse day
- April 9th - Drive to Mazatlan if in Durango
- April 10th - Mazatlan
- April 11th - Drive to El Fuerte, El Zorro Dinner Show - dinner
- April 12th - El Fuerte and Copper Canyon
- April 13th - El Fuerte and Copper Canyon
- April 14th - El Fuerte and Copper Canyon
- April 15th - El Fuerte and Copper Canyon
- April 16th - El Fuerte and Copper Canyon
- April 17th - El Fuerte and Copper Canyon
- Apirl 18th - Huatabampito
- April 19th - Huatabampito
- April 20th - Alamos
- April 21st -Alamos Tour - lunch - Musicians eve walk
- April 22nd - Drive to San Carlos - Farewell mea
- April 23rd - Tour San Carlos
- April 24th - Rancho Betania pot luck and bonfire
- April 25th - Drive to USA

Note this trip may have some adjustments to match train schedule
Pets are not allowed on train, except seeing eye dogs, but we arrange pet care.


You must choose one of the exit options below for the Yucatan Caravan, as it officially ends on April 9th in Mazatlan, not Nogales. The 3 day exit is included. This is to allow flexibility. Some of these options (not the 7 day exit) may be available to the Baja groups.

1) 3 day quick exit included via Nogales (no tours, one meal) Cross into US April 13-14
2) 3 day exit included via Laredo, but must have taken Durango option below
3) 25 day Copper Canyon exit (actually will be 16 days northbound) $3000 USD, reduced price for Yucatan participants. Those joining already in Mexico will have a price calculated on when they join


Durango Option - Max 20 rigs
Price $300 based on 3 days up there. Note currently suspended until we confirm space in October.

- April 6th - Drive Mazatlan to San Juan hot springs near Durango
- April 7th - Drive to Guadalupe Aguilera
- April 8th - Eclipse followed by drive back to Durango
- April 9th - Back to Mazatlan
- April 10th - Mazatlan
NOTE

We have to price 3 nights camping in Mazatlan into the price for this option, even though you won't be there. This is to ensure we can maintain the spots This is why there is a surcharge

Colonial Caravan and Copper Canyon with extension will do quick exit on April 10th. These have plenty of room still. They both include Copper Canyon southbound. There is a Texas option if you are in thses groups. Prices for NON Stand alone trips are on our prices page. See link above.


Photos

Below are some photos of the 3 trips. The Mazatlan - Durango Highway is an expensive toll highway, but it is one of the world's most spectacular drives. There are over 115 bridges, the Baluarte Bridge is the world's second highest (almost 2000 ft) - we can stop on it. There are also 61 tunnels, one of them 3 km long.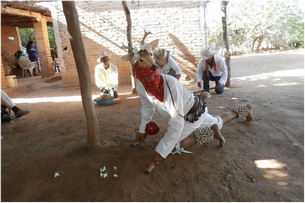 Mayo Dancing
24 - day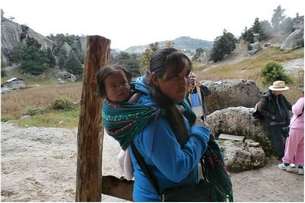 Tarahumara
24 - day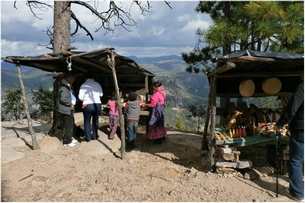 Copper Canyon
24 - day

Cable Car
24 - day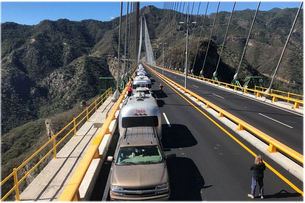 Durango Hwy
Baluarte Bridge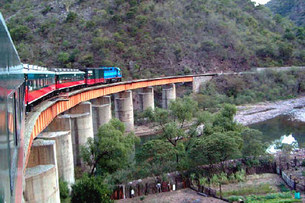 Copper Canyon
24 - day
El Fuerte
24 - day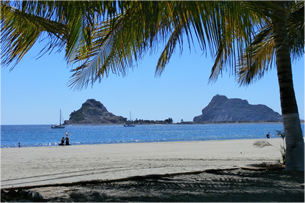 Mazatlan
All caravans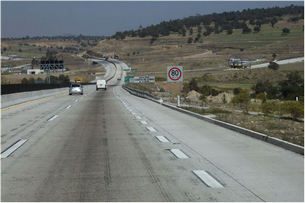 Typical Toll Highway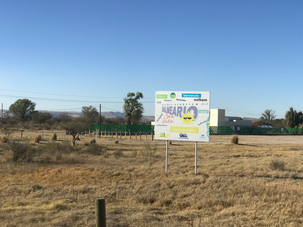 Durango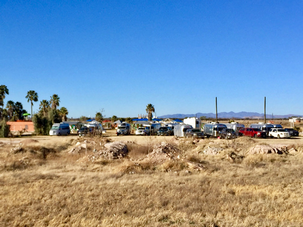 Durango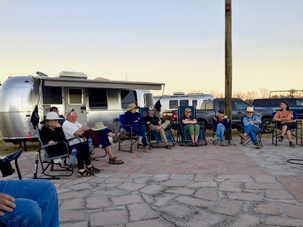 Durango
.
These are the 2 dry camp locations, Concordia and Guadalupe Aguilera. They are near Mazatlan and Durango, respectively, in the path of totality. Sign up using the form at the bottom of the page.