Mexico RV

Caravan Tours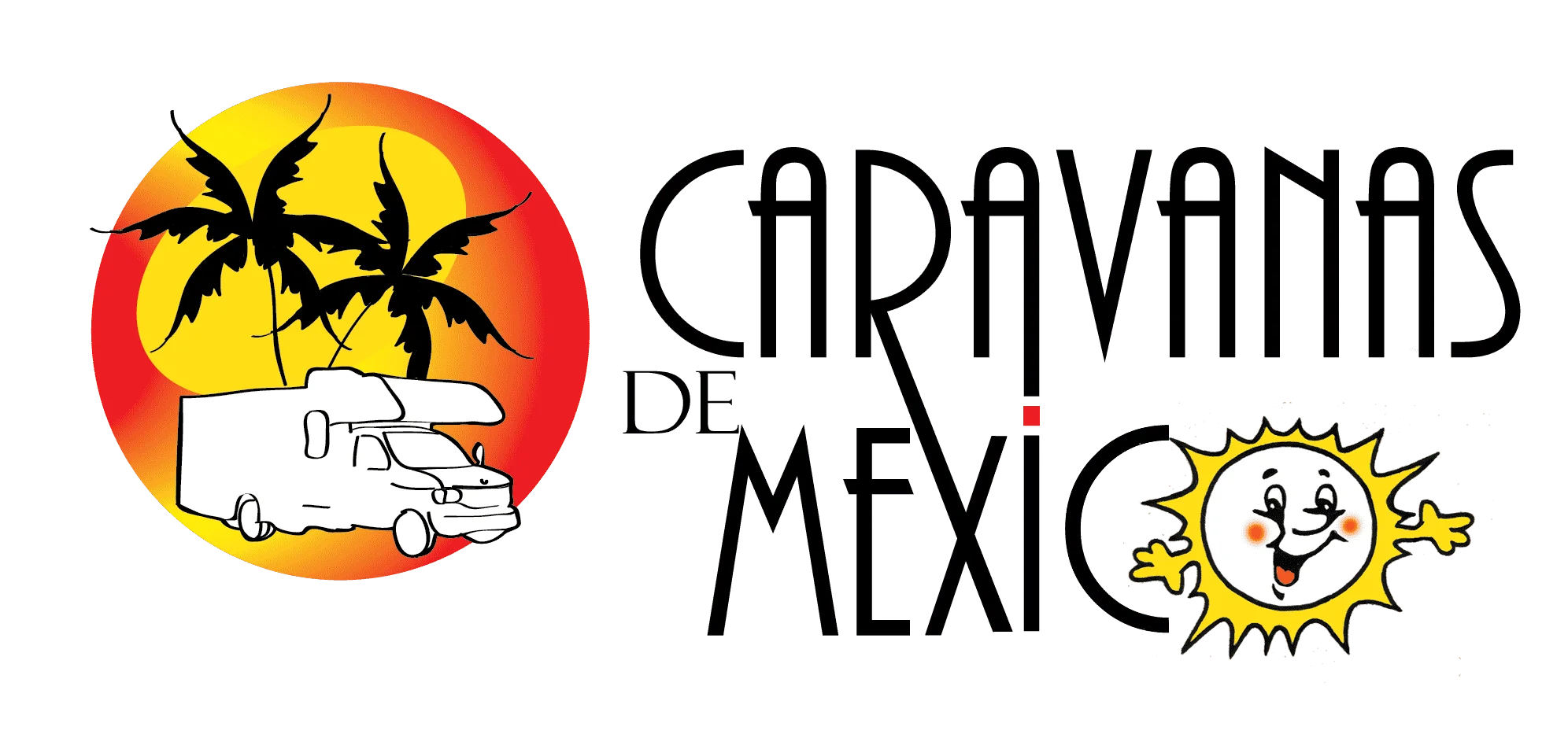 Now booking for April, 2024 Total Solar Eclipse trips. Click for info
Phone us 1-855-327-7555
DISCOVER THE WARMTH OF MEXICO ON AN RV CARAVAN TOUR
Travel with us on an RV Caravan Tour to Mexico. We are the only RV Caravan company fully registered, certified and supported by the Mexican Government to operate inside Mexico. We cover both Baja and mainland Mexico. An RV Caravan will show you the real Mexico you probably never knew existed. You will experience Ancient pre-Columbian Civilizations, Colonial Cites, strange traditions - and of course, gorgeous beaches. We are based in Mexico, we only operate in Mexico, and we are fully licensed to operate our own local tours and not use contractors. You get much more value for your dollar.

Our RV Caravans use only hire fully trained and qualified registered tour guides. Many RV Caravan companies do ad hoc tours led by the Wagon Master. Some of our guides are Phd's in history and/or archaeology, and all are fully bilingual. To put things bluntly, we can offer far more than any of our competitors. It is not a case of "You get what you pay for", it's a case of you "You get far more for what you pay for". No other company running RV caravans to Mexico can compete with the value we can offer, which is why one major RV club uses our services exclusively. All RV Parks (and some hotels) are included in our price, plus many tours and high quality meals. Starting in 2021 we are running caravans down the Baja as well.

What our Customers have to say !!
Real Quick Questions
Blogs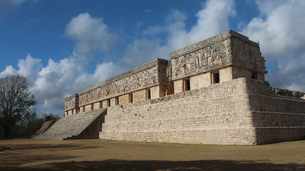 Ancient Civilizations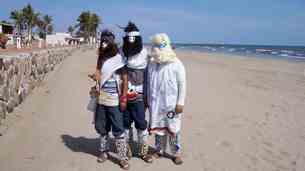 Strange Traditions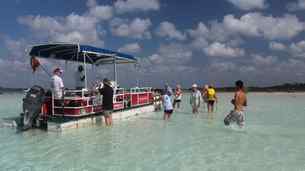 Lake Cruises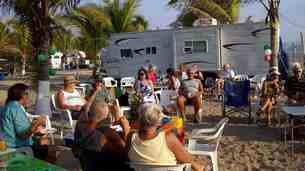 Happy Hours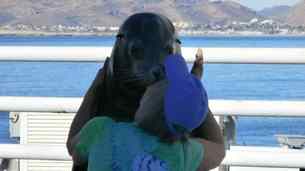 Animal Encounters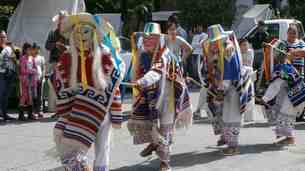 Culture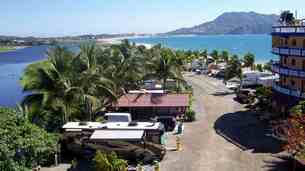 RV Parks
Gorgeous Beaches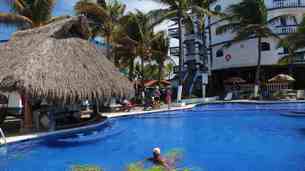 Pools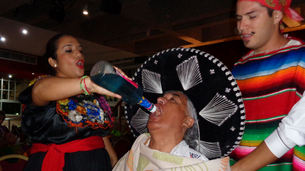 Fun Times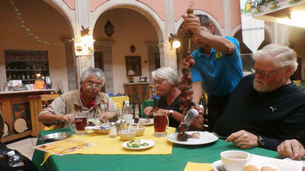 Fantastic Meals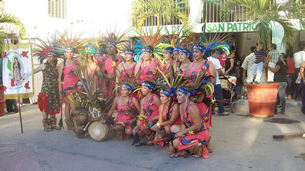 Festivals

Why take a Mexico RV Caravan?
If you have never been on an RV Caravan, maybe it's time to add this to your bucket list. What better way than to join an RV caravan to an exotic location. Most people have never taken their RV's to Mexico. They do not know what they are missing. A Mexican RV Caravan tour is a safe and great way to see the "Real Mexico". Many of our customers become hooked and return every year to a favorite RV Park. Caravanas de Mexico is the only company operating RV Caravans covering Baja and all of Mainland Mexico (In English).

Attractions in Mexico are not set up for RV's, as in the USA & Canada. There are no large RV parking lots. This is why it is better to take an RV Caravan Tour, as we will arrange transport to places it is not practical to drive an RV.


An RV Caravan Tour to Mexico will be a once in a lifetime unforgettable experience. We have been operating RV Caravan Tours for many years, and have been the contractor for many other RV Caravan companies like Adventure & Fantasy. We are based in Mexico and we only serve Mexico. We know Mexico, because we live here. Our prices are about 25% lower than other companies and we offer a higher quality experience for your money. We have a vast network of government certified bilingual tour guides.


Common questions about Rving in Mexico
We always get asked some common questions concerning taking an RV into Mexico and RV Tourism in Mexico in general, so let's get a few of them out of the way up front.

1) Is it safe to drive your RV in Mexico? Answer: Yes. We have been taking RV's all over Mexico for a decade with no safety issues.
2) Are there RV Parks in Mexico? Answer: Yes, plenty of them. Not all up to Americna standards but quite usable.
3) Are roads in Mexico good for RV's? Answer: Yes & No. Mexico has modern freeways and not so modern backroads. One big advantage of a Mexican Rv Caravan tour is that we know where it is OK & where it is not. Especially for larger RV's

We have a far more detailed section on this site where we try and answer all your questions concerning RVing in Mexico. See the "Details" tab


Clubs and French Groups
We have recently been chosen by the WBCCI Airstream Club to operate their Mexico RV Caravan tours. We have done RV Caravan tours for Vagabundos del Mar. We are willing to work with other RV Clubs. We also offer several RV Caravans in French.


Why choose us for your Mexican RV Caravan adventure?
There are many reasons to use us over our competitors for your Mexico RV Caravan. Our prices fall in the center range, but you have to keep in mind that we have one huge advantage, namely we are a Mexican Company and we have access to many services unavailable to other companies. We can operate on a total legal basis in the country and count on support of the Ministry of Tourism to deal with any issues that may arise. We can also deal with officials in Spanish.

We do not have to contract out parts of our operation to other companies in order to operate legally. We do not scrimp on meals, we source out the best options available in each location, and we also try to use the local tour guides with the best reputation. There are both reputable and fly by night Mexico RV Caravan operators out there. Some of them pad their tours by offering a lot, when in fact they are counting each stop on a day tour as a separate tour. If you see 40 tours offered on a 30 day trip, that is a dead giveaway. Some companies make you pay your own RV Park fee. RV parks in Mexico are no longer that cheap, so they can end up costing more than you may expect.


How we operate
We attempt to keep travel days as short as possible, but you do have to expect some longer days. We do not want to boondock in gas stations unless it becomes absolutely necessary. We want to make sure you are in a campground or RV Park at each stop. We will use the best one available at each location, but keep in mind that they will not all be up to US or Canadian standards. We do local tours at most of our stops, some are just beach stops, others include activities and local attractions. Remember this is Mexico, think of it as an adventure and you will have a great unique RV Caravan experience.


Our customer orientation representative has written many magazine articles on Mexico. Here are a couple of samples:

RV Life - Melaque
Trailer life - RVing in Mexico
RV Life - Is Mexico safe?


Our Facebook Page

Our Twitter Account