Newsletter #21 Nov 8, 2021
This is the first newsletter of the new Season. I have added most of customers for this year to our newsletter. If you do not wish to receive them, select unsubscribe at the bottom of the page.
Covid 19:
The good news is that Covid has been on the decline in Mexico over the last few weeks, with northern Baja being the only area with a higher number of cases. All other States are green on their stoplight system. I entered Mexico about a week ago and have been impressed with how careful people are down here in general, especially compared to Arizona.
Nogales Crossing:
I crossed at Nogales and I have a lot of observations on the route south from there, so here they are:
1) The Desert Diamond Casino, which was an overnight spot for many RV 'ers does not allow overnight parking at this time. Whether that will change in future is unknown. Walmart in Nogales also does not allow overnight parking. The Home Depot will sometimes allow it after closing time with the permission of the manager. An option at this time is the China Buffet between Walmart and Home Depot which has been closed for 3 or 4 years and has a sizable parking lot. However, it does have a "For Lease" sign on it so how long that will continue, is unknown. Another possible option may be the large parking lot in front of Marshalls on Mariposa, although we have never tested it out.
2) There are considerable changes in Nogales itself with the construction of a new interchange at Hwy 19 and Mariposa. If you are headed to Walmart or Home Depot, take Exit 8 to the left (Grande Ave) and continue to Mariposa. If you are going straight to the border, simply continue on I-19. In an RV, make sure you use the far right lane when crossing the border, marked Trucks.
3) There are some wicked high topes (Speed Bumps) just before the Inspection station past the first toll booth. You can even bottom out some RV's, take them at an angle if possible. That Toll booth, BTW, now accepts US dollars.
4) It now appears to be the practice to forced you to unhitch tow cars (even those on a dolly) and drive them across separate. This can be a big hassle. It is probably easier to unhitch them and drive them separate before crossing from the US. I have had several reports of this at other border crossings as well.
5) The permit process at Km 21 is considerably longer due to strict Covid rules. It is prudent to cross as early as possible. There are no more window stickers, you receive a paper permit.
6) Hwy 15 D is in excellent condition all the way through Sonora. Sihnaloa is is another matter. There are several rough sections and the last 100 km before Mazatlan is in very poor condition.
7) The northern access to the Hermosillo bypass is now complete. You exit to the left after a new toll booth
8) The periferico around Guaymas has just been re-paved. To access it from Totonaka RV Park, take the exit to Guaymos. Watch for the Arco station on the left, then take the turn towards the airport to your left. It is signed. Watch for unmarked Topes near the airport. Turn right on the bypass about 2 km past the airport, then left at the lights and cross the causeway through Empalme and merge back with 15D.
9) About an hour south of San Carlos near Vicam, Yaqui Indians are stopping traffic and asking for money. They have a legitimate beef. They were not paid what promised for the highway through their territory and the government has been diverting their water supply to cities.
10) Highway 15D from Mazatlan to Guadalajara is in good shape. There is a new Pemex station about 5 km past where the Tepic bypass exits onto 15D. I suggest topping up here as it is the only gas stop until Guadalajara
Police Changes
The Federales and State Police have been merged along with some military into the National Guard. The cars are now white.
Fuel prices
Fuel prices in November range from 20 to 22 pesos a liter, with diesel being about 1 to 1.5 pesos a liter more expensive. This translates to $3.72 SS per gallon to $4.09 US a gallon or $1.23 Can per liter to $1.35 Can per liter
ULSD Diesel
According to an expert, Ted White, all diesel in Mexico is now ULSD (UBA in Spanish). I am seeing it marked at more and more stations, especially the non-Pemex ones. One customer on our last Yucatan loop reported that their DEF consumption was normal, which is a good indicator they were filling with ULSD. DEF is still hard to find, so bring plenty. Autozones do carry it. There are now more non-Pemex stations than there are Pemex stations. A number of them mark UBA on their signs.
Immigration Crackdown
Mexico appears to be in the middle of an immigration crackdown. You should carry your passport and tourist card with you when leaving your RV Park. There are also reports of them not giving out 180 day visas, but so far that appears to be only with fly-ins. This is related to a clamping down on people staying in Mexico after their tourist card expires.
Temporary Importation permit changes
The window stickers are gone and you now get a sheet of paper. I have noticed a lot more road checks for them, so keep it handy in your glove box.
Pet Trackers
I did a piece on these earlier on. If you are worried about your dog wandering off and getting lost in Mexico, I am pleased to announce that the"Tractive" pet tracker works well in Mexico as long as you have cell service, which is pretty much the whole country. You can track your dog on your phone. I have mine on a 11 lb dog and it is fine, anything under 9 or10, and it may be a bit bulky. You can get a bit of a discount by using THIS LINK . A 5 year plan is the most economical.
Here is an illustration of the screen: (Totonaka, San Carlos)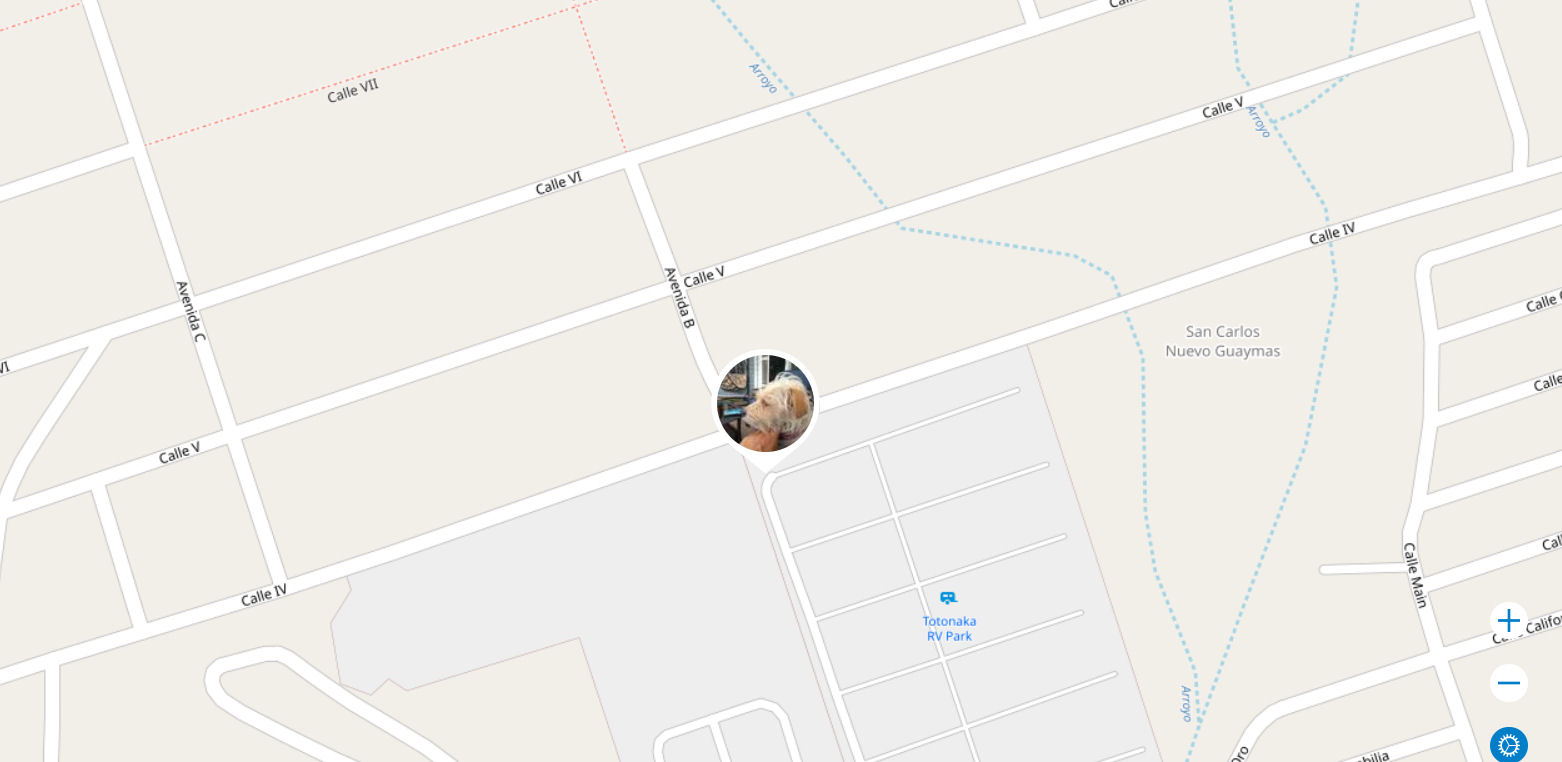 Unless you set up a zone around the local WiFi, which puts it into standby, it is a good idea to charge it over night, every night. I just take my dogs collar off and do it when she is in bed.
Caravan status
There is room on Spring Baja, plus Spring Copper Canyon, which has an "almost free" 2 month beach stay option See https://www.mexicocaravans.com/updates.html for details Yucatan is Full for 2022 and is also full for 2023, but dropouts will occur once we ask for a deposit, I am sure. Airstream Road, Rail & Sea (Baja) is full, but I believe there may be one or 2 spots open on 3 Gems (Colonial Mexico). Copper Canyon 2023 is filling fast.
Caravan Etiquette
For those of you on Caravans, here is a reminder of driving practices:
1) Try to keep the rig in front of you in sight. You will see him go over Topes (speed bumps) and that will help you accidentally missing one .
2) The rig right behind the wagon master should leave a bit more space. The wagon master is the first one to hit a Tope and may stop quickly if he spots one at the last moment.
3) Do not overtake the Wagon Master, and try to stay in assigned order.
4) The Wagon Master will warn of road hazards. In a longer caravan somebody at the center should pass it back
5) Do not use the radios for frivolous conversation
6) Warn those ahead when people are passing. We don't want someone swerving around a pothole and hitting someone
7) Try to re-group after toll booths or go slow until everyone is through. Since it is generally still toll highway past most booths, some may have to continue on to a safe spot down the road to wait.
8) Do a radio check before leaving, You will probably be assigned a number by the Wagon Master
9) Top up with fuel at most stops. There are some gas gaps
10) Ask for a ticket when you fill up and give them to the Wagon Master. These are a tax write off for the company, and they show their appreciation with extras
11) The wagon master will assign your spot when you arrive at a park.
Passing in Mexico
On 2 lane highways in Mexico, you will often notice shoulders ahve dotted lines. Thi smeans you shoudl drive straddling the shoulder so others can pass. See this video to see what I mean Passing procedure on a 2 lane Hwy in Mexico - YouTube
Well that is about it for now. Now the Canadian border is open, I imagine more R's will show up down here.